The number of electric cars on the roads has skyrocketed in recent years, as has the demand for ways to charge them. Many owners charge their electric car from home via a wall box charger in their driveways. If you live in an apartment or house and need to charge your electric car without a driveway or off-street parking, the whole process can become much more difficult. Here are our best tips on how to do it.
Depending on your local council rules, you may be able to drag a charging cable from your house to your car if it's in a parking space outside, assuming you can find one close enough. However, this requires a lot more planning than you might think, as you could be held liable if someone is obstructed by the cable and causes an accident.
Home charging isn't the only way to charge your electric car without a driveway. Under the government's residential on-street charging point scheme, more public charging points are being installed in places that are easily accessible to electric car owners who do not have off-street parking with access to their own charging point. There is also the option of charging your car in other places where you spend a lot of time, such as your workplace or the gym.
It's worth remembering that the sale of new petrol and diesel vehicles is banned in 2030, so the already rapidly growing public charging network will become much more widespread in the coming years, making it easier to connect if you don't have a road. home entrance.
street charging
While charging with a cable running from your house to the outside of your car isn't technically illegal, it's not recommended for a number of reasons. Many municipalities require that you remove the charging cable once the vehicle is fully charged, plus you could be legally liable if a bystander is injured as a result of tripping over the cable, so it's best not to take the risk.
While it's also possible to charge an EV through a traditional three-pin plug in your home, it's highly frowned upon due to the risk of fire and extremely slow charging speeds.
If you're serious about running a charging cable across pavement, you'll need a cable that's long enough to reach without an extension cord, and you'll want to put a roll cover over the cable if it crosses a public right-of-way.
The Electric Vehicle Home Charging Scheme (EVHS) was replaced in April 2022 by the EV Chargepoint Grant. The grant contributes up to 75% of the cost of a home charging point or wall box up to a limit of £350. This was previously available to EV owners with a home, but is now only available to homeowners. of electric vehicles living in rented accommodation or in a flat. Crucially, however, the owner must have 'exclusive off-street parking on their property'. Therefore, it is not available to homeowners without private parking who hope to run a cable to the street from their wallbox.
Scheme of residential charging point on the street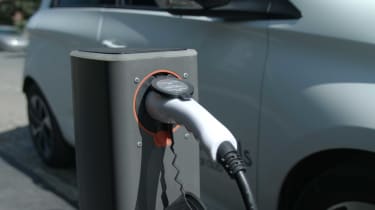 Many municipalities have benefited from the Residential Street Charging Points Scheme and are installing more and more charging points in cities to promote the adoption of new electric vehicles. It's true that a typical electric vehicle still takes longer to charge than refueling a petrol or diesel car, but this solution allows electric car owners to recharge while parked.
The scheme allows councils to install charging points in inconspicuous places such as lamp posts, kerbside pillars or even pavements where they can be retracted while not in use.
You'll still need to bring your own cable to use these charging points, and charging speeds will vary by area.
charging at work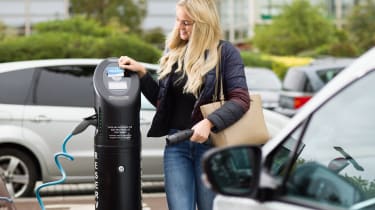 There is another government scheme, known as the 'Workplace Charging Scheme', to promote the installation of charging stations for use while you are at work, so it is worth asking your employer or suggesting the idea.
Businesses eligible for this grant can save up to £300 for up to 20 plugs, making the prospect that much more attractive for business owners. With the rise in popularity of working from home, it also provides an incentive for employees to return to the office. It makes sense to charge your car while you're busy so it's ready to go at the end of the workday.
Other places where people spend a lot of time are gyms, supermarkets, and shopping malls. Many gyms now offer charging facilities in their parking lots to use while you work out and this is even included as part of some gym membership plans. It's worth checking what's included in your plan if you go to the gym. Supermarkets and malls have also started installing public charging points as a way to attract shoppers, so there are plenty of places to charge your EV.
The public charging network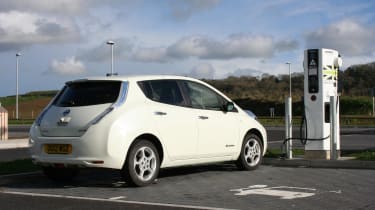 With a ban on the sale of new gasoline and diesel vehicles fast approaching in 2030, the public charging network will inevitably become as widespread as gasoline and diesel fuel stations are now. You're less likely to have a driveway in places with higher population density, but that's also where most public charging points tend to be.
The other benefit to public charging stations is that charging speeds are faster than charging at home, with fast, fast and ultra-fast charging available for compatible cars. The number of public chargers increased by 335% between the end of 2016 and 2021, and the majority of these installations are fast chargers. The infrastructure is continually expanding.
The ever-increasing number of charging stations means it's easier for customers to compare prices: price tends to vary based on charging speed and location. The fastest chargers can be quite expensive, especially those found on the motorway network, but they're really just good for a quick top-up to get you home. In most cases, charging an electric car is significantly cheaper on a cost per mile basis than refueling a gasoline or diesel car, so electric vehicle owners should save on running costs, even if they are forced to to rely on public chargers.
Now that you've read about how to charge your car without a driveway, check out our guide to quick and easy charging and different types of chargers…