This heavy-duty hand scrub is tough on oil, but not on hands.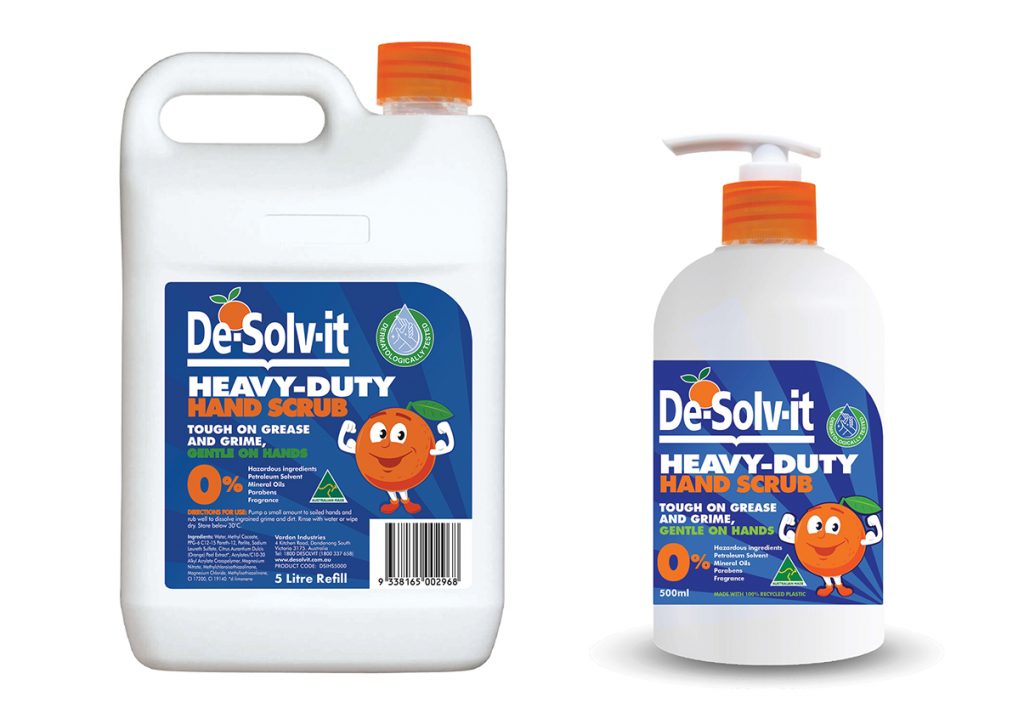 For 40 years, De-Solv-it says it has solved the toughest cleaning jobs and has quickly become the "go-to cleaner" for tradesmen, professionals, and homes.
Having been voted the number one multi-purpose cleaner by CHOICE, De-Solv-it multi-purpose cleaners can be found in every major hardware store in Australia and New Zealand.
Cleaning products that remove grease, grime, and grime tend to be too harsh on your hands. Most industrial cleaners contain ingredients that can sensitize the skin, be dangerous to our health and/or the environment.
If your hands are frequently exposed to a surfactant or degreasing solvent, the cleaning chemicals can strip your skin of its natural oil and damage your skin barrier. As a result, your skin can become very dry and eventually develop sensitive skin conditions like eczema or dermatitis.
The recently launched De-Solv-it Heavy-Duty Hand Scrub is formulated with natural actives and is free of any hazardous ingredients, mineral oil, petroleum solvents, parabens or fragrances.
And while according to De-Solv-it, most cleaning products can be up to 80% water, De-Solv-it is 100% active ingredients. Performance, efficacy and safety are its main criteria in the research and development of its product range, says De-Solv-it.
De-Solv-it says its products are very effective at removing oils, grease, grime, tar, paint, printer ink, dirt, and other tough stains from hands, yet leave hands feeling soft and moisturized.
It's also pH balanced, dermatologically tested, and clinically proven to be skin-friendly and safe.
The product is also biodegradable and does not contain any synthetic exfoliants or microspheres that are dangerous for the environment. The chosen bottle is made from 100 percent recycled PET material from Australia.
The product is made in Australia, using an organic and sustainable Australian Perlite Ore scrub. De-Solv-it says that fine perlite works well as an exfoliant to gently remove dirt and grime without being harsh or abrasive on hands.
Also, De-Solv-it says what's amazing about this new De-Solv-it Heavy-Duty Hand Scrub is the unexpected feel of hands after washing with it.
It claims that the hands feel very soft and moisturized, something that you would not expect from an industrial cleaner that is strong enough to remove dirt and grime.
De-Solv-it Heavy Duty Hand Scrub is available in 500ml and 5 litres. Trade inquiries on larger industrial products and sizes welcome.
For more information please visit www.desolvit.com.au