To get started, take our car buyer's checklist with you.
This provides a general overview of what to look for, but an online search can give you a better idea of ​​what to look for with specific makes and models.
1. Tires
We've already mentioned kicking the tires, but it pays to get down on your knees and inspect them properly.
How much tread do they have?
They need 1.6mm as the legal minimum, so if they're below 3mm, you'll need to factor in the cost of changing them soon.
While budget-brand tires may not be a major concern on a budget car, if you're spending more money (especially on a performance car) you'll want four premium tires to match.
Click here to find out how to check the legal tread of a tire with a 20p.
2. Dents and scratches
How is the body?
Are there signs of curbs on the wheels?
It's important to inspect a car in broad daylight…rain or darkness can hide a lot of things.
Don't be put off by small dents or scratches, these can be repaired quite cheaply, but use them for bargaining.
3. Spaces between panels
While looking at the body, check the gaps between the panels – large gaps in the panels can be a sign that a car has been poorly repaired after a crash, and make sure there are no color differences between the panels.
4. Fluid levels
Open the hood and check all levels, including oil, brakes, and power steering.
If they are low, it could be a sign that the car has not been well maintained.
While you're there, look for signs of oil leaks under the hood.
It's also worth looking under where the car is normally kept.
5. Under the oil cap
In addition to checking the oil level, it's worth looking under the oil cap for signs of a white, mayonnaise-like substance.
This could be due to condensation, but is usually created by mixing coolant with oil, a sign that the head gasket might have failed.
Also check that the coolant expansion tank looks clean.
6. Electricity
Try everything. Roll the windows up and down, turn off the radio, test the air conditioning.
Failures can be a simple fix, but at least it's a point of negotiation if something isn't working the way it should.
7. Glass
Are there any chips on the windshield?
They could develop into cracks, which means you will have to replace the windshield.
If they are visible to the driver, they could also be an ITV fault.
Also look at the headlights and taillights, keeping an eye out for chips, cracks, and any internal fogging or moisture.
How to deal with damaged windshields
8. Upholstery
Don't overlook the interior of the car.
Are there stains or tears on the seats?
Smells good?
Bad odors can be very unpleasant and difficult to get rid of, especially if you have smoked in a car.
9. Spare wheel and accessories
Does the car have to come with a spare wheel?
If so, is it there and in good condition?
Is there a jack to lift the car in case of a puncture and an adapter for the wheel lock nuts installed on the vehicle?
10. Wear
All second hand cars will show a certain amount of wear, but is it consistent with age and mileage?
A car that shows low miles on the clock but shows great wear and tear on the driver's seat, steering wheel, and pedals should set off alarm bells.
Click the image below to download the checklist and bring it to your viewing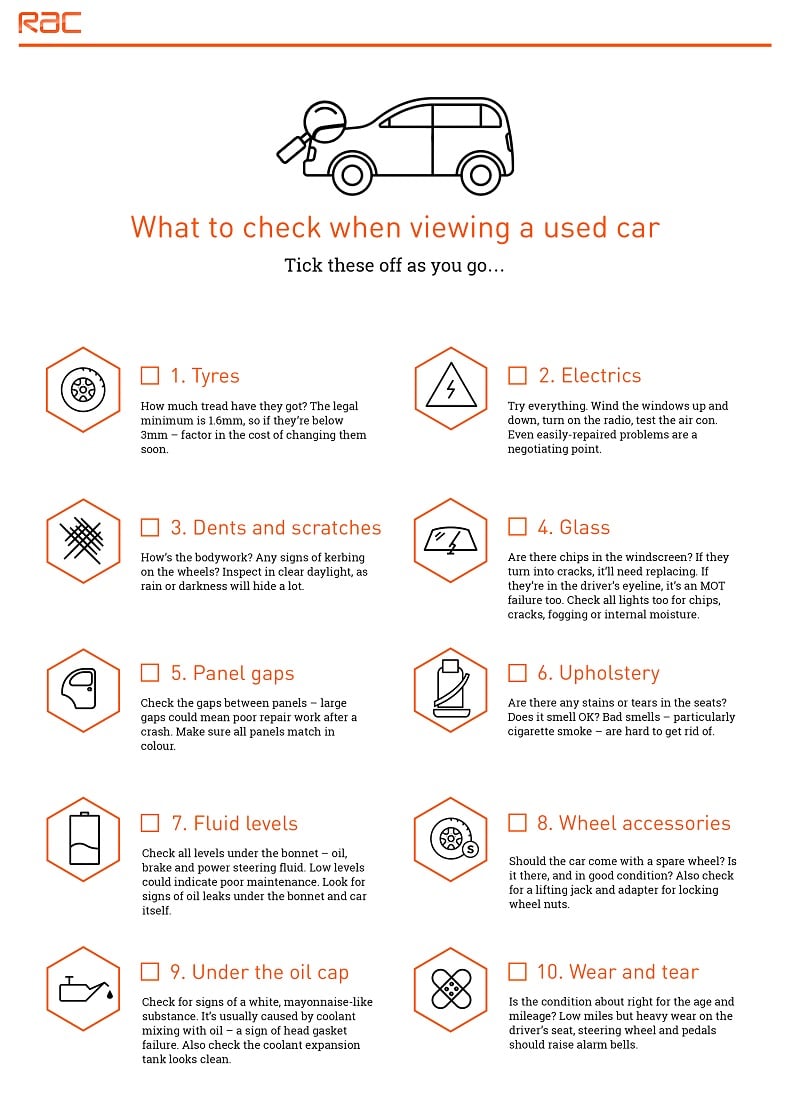 MORE TIPS: How to Spot a Timed Car
This checklist will give you a good idea of ​​what to look for when inspecting a used car; however, it is always advisable to take someone with you who has a good knowledge of cars and mechanics, if not yourself. – especially if you are spending a significant amount on the car.
If you don't know anyone to take and need a second opinion, a vehicle inspection is a great idea.
For a fee, trained mechanics will visit the car with you and check the vehicle's working order and operating condition, which could save you a significant amount in future repairs, should they detect a hidden problem.